Profile
Research Interest
MOLECULAR GASTROENTEROLOGY LABORATORY
Gastrointestinal Cancers constitute a major part of the total cancer burden and significantly contribute to the mortality and morbidity of the disease. Among them, pancreatic ductal adenocarcinoma (PDAC) and young onset sporadic colorectal cancers (YOSCRC) are of major interest of our laboratory and understanding of the genomic and epigenomic changes leading to the development of the diseases is the main research question being addressed through multiple projects. Additionally, our laboratory has special interest in exploring the mechanistic role of noncoding RNAs in the progression of both PDAC and YOSCRC.
Selected Publications
Identification of key deregulated RNA Binding Proteins in pancreatic cancer by meta-analysis and prediction of their role as modulators of oncogenesis; Moumita Mukherjee and Srikanta Goswami;  Front. Cell Dev. Biol. 9:713852. doi: 10.3389/fcell.2021.713852. PMID: 34912796.
Transcriptome analysis identifies putative multi-gene signature distinguishing benign and malignant pancreatic head mass; Bishnupriya Chhatriya, Moumita Mukherjee, Sukanta Ray, Barsha Saha, Somdatta Lahiri, Sandip Halder, Indranil Ghosh, Sujan Khamrui, Kshaunish Das, Samsiddhi Bhattacharjee, Saroj Kant Mohapatra, Srikanta Goswami;; J Transl Med. 2020 Nov 7;18(1):420. doi: 10.1186/s12967-020-02597-1; PMID: 33160365
Global cataloguing of variations in untranslated regions of viral genome and prediction of key host RNA binding protein-microRNA interactions modulating genome stability in SARS-CoV2; Moumita Mukherjee, Srikanta Goswami; bioRxiv 2020.06.09.134585; doi: https://doi.org/10.1101/2020.06.09.134585 / PLOS ONE; August 11, 2020; https://doi.org/10.1371/journal.pone.0237559; PMID: 32780783
Single nucleotide polymorphisms in PRSS1 and CASR genes are associated with chronic pancreatitis in North-Eastern region of India; Chhatriya B, Paine SK, Das S, Chatterjee A, Nath D, Mukherjee A, Basu A, Goswami S. J Gastrointestin Liver Dis. 2020 Jun 4;29(2):267-268. doi: 10.15403/jgld-788.; PMID: 32530995
Comparison of tumour and serum specific microRNA changes dissecting their role in pancreatic ductal adenocarcinoma: a meta-analysis;  Chhatriya B, Mukherjee M, Ray S, Sarkar P, Chatterjee S, Nath D, Das K, Goswami S; BMC Cancer. 2019 Dec 3;19(1):1175. doi: 10.1186/s12885-019-6380-z; PMID: 31795960
Research
MOLECULAR GASTROENTEROLOGY LABORATORY

Complex diseases are caused by interaction of multiple genes and environmental factors. We know that complex diseases do not follow the standard Mendelian patterns of inheritance. Although we inherit genes associated with these diseases, genetic factors are responsible only for partial risk associated with complex disease phenotypes. Epigenetic factors are also known to play important role along with environmental and life-style factors and it is very important to understand their relative contribution in modulating the overall pathophysiology of the disease.
Broadly, the interest of our laboratory is to identify genes, loci and epigenetic changes that confer susceptibility to some complex disorders, to elucidate how they influence the pathogenesis, and to translate this information into improved patient care both in terms of better diagnosis of the disease and better treatment options.
Currently, we are focusing on several gastrointestinal diseases.
Pancreatic Diseases:
Chronic Pancreatitis (CP) is a disease of the pancreas where progressive inflammation of the organ ultimately leads to the destruction of both exocrine and endocrine part of pancreas resulting in high morbidity and mortality. The disease also increases the susceptibility of the patients to develop pancreatic ductal adenocarcinoma (PDAC) representing a classic model of progression of chronic inflammation to malignancy. Notably, PDAC is one of the most aggressive cancers lacking early diagnostic biomarkers. We aim to:
(a)  Elucidate genetic changes which could explain the development of CP and also finding out the mechanism of alcohol mediated injury of pancreas during the progression of alcoholic chronic pancreatitis (ACP).
(b)  Pursue comprehensive analysis and integration of transcriptome, methylome and proteome data and functional characterization of key leads to have a mechanistic idea of development of PDAC from chronic inflammatory disease of the pancreas and also to understand the metastasis of the disease to distant organs.
(c)  Focus on the role of noncoding RNAs (miRNA, piRNA, long noncoding RNA, circular RNA) in these processes with special emphasis to explore their role as non-invasive diagnostic or prognostic biomarker.
(d)  Exploring the involvement of RNA modifications- Readers/ Erasers in development and progression of pancreatic cancer.
The following figure, adopted from Chhatriya et al., PINSA., Vol 84 No 2 (2018):501-511; summarizes the core area of our research interest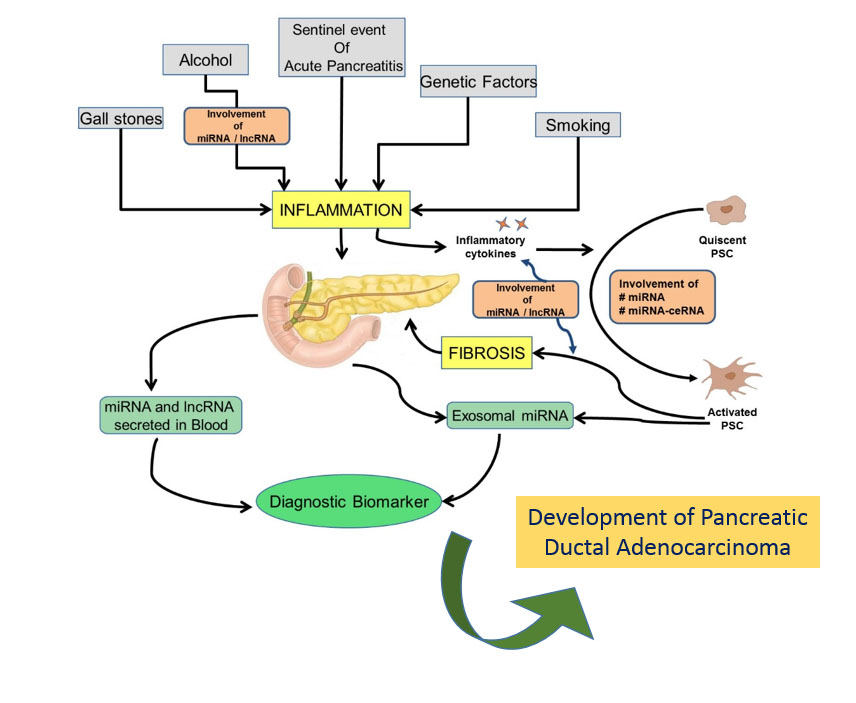 Colorectal cancer:
Another area of interest is early onset aggressive subtype of colorectal cancer (Young Onset Sporadic Colorectal Cancer) in Indian population as described by Raman R et al. (Mol Carcinog. 2014 Feb; 53(0 1): E181–E186). We plan to investigate the genetic and epigenetic underpinnings of the disease and aim to relate them to the actual mechanism. Role of long noncoding RNAs mediating the disease development and comparison of total transcriptome & proteome will also be explored.
In addition to these, a part of my Laboratory is also investigating the molecular changes leading to the development of Colon cancer from Ulcerative Colitis.
CV
Education
| Year | Degree | University |
| --- | --- | --- |
| 2006 | Ph.D | Jadavpur University (Indian Institute of Chemical Biology, Kolkata) |
| 1999 | M.Sc | University of Calcutta |
| 1997 | B.Sc | Presidency College (University of Calcutta) |
Professional Appointments
Assistant Researcher, Department of Dermatology, University of Wisconsin-Madison, Madison, WI, USA (2007-2011)
Professional Memberships
The RNA Society, USA
Indian Society for Human Genetics (ISHG)
Society for Biological Chemists, India (SBC-India)
Indian Society for Gastroenterology (ISG)
Indian Association for Cancer Research (IACR)
Calcutta Consortium for Human Genetics (CCHuGE)
Past Major Projects
Investigation of circulating small RNAs in patients with benign and malignant pancreatic diseases.
Transcriptome analysis of benign and malignant pancreatic head-mass to identify potential biomarkers for detection of disease.
Exploring the genetic susceptibility of individuals from Nort-East India for chronic pancreatitis.
Analysis of circulating microRNAs in alcoholic chronic pancreatitis patients to assess their potential to predict alcohol mediated pancreatic tissue injury.
Lab members
PhD Students
Barsha Saha
Moumita Mukherjee
Indrani Ray
Rupayan Mukherjee
Preeti Mandal
Project Fellow
Swati Ghosh
Sushmita Ghosal
 
Integrated MS-PhD Student
Mourya Mondal
Lab Allumni
Bishnupriya Chhatriya (PhD Student)               Mousumi Biswas (Project Fellow)
Sutapa Ghosh (Project Fellow)                           Swapnila Pramanik (Project Fellow)
Piyali Sarkar (Project Fellow)                              Pujayita Devgupta (Project Fellow)
Sanchita Das (Project Fellow)                             Sandip Das (Project Fellow)
Suman K Paine (Postdoctoral fellow)
Molecular Gastroenterology Laboratory