BioMedical Genomics Unit (BMGU)
The mandate of Biomedical Genomics Unit (BMGU) is to accelerate basic & translational research by empowering clinicians to carry out independent research and training. Establishment of BMGU was guided by the commitment of NIBMG to ensure a proximate and fruitful research engagement between clinicians and basic scientists.
Research in BMGU encompasses a wide variety of genotype-phenotype correlations, gene-environment interactions and effective utilization of genome-scale data in clinical care. BMGU intends to enable clinician researchers to generate basic genomic evidence for identified and defined disease/health phenotypes to facilitate genome-based solutions. The Unit also aims to promote genomic research capacity building by training medical students, researchers and professionals through workshops, continuing education and other training programs.
Research
Currently, several faculty members of NIBMG have ongoing research collaborations that leverage BMGU platform.
Dr. Saroj Kant Mohapatra has initiated a collaborative study with the Department of Pulmonology, IPGME&R to dissect the molecular underpinning of COVID-19 immunothrombosis.
Dr. Srikanta Goswami collaborates with the School of Digestive and Liver Diseases, IPGME&R on acute/ chronic pancreatitis and pancreatic cancer.
Dr. Souvik Mukherjee collaborates with Dept. of Dermatology in IPGME&R, CNMC, Medical College, MR Bangur Hospital and Dept. of Endocrinology and Metabolism of IPGME&R in the area of host-microbiome interactions in chronic autoimmune as well as lifestyle disorders in humans.
Dr. Bhaswati Pandit collaborates with the Department of Rheumatology, IPGME&R, Kolkata focusing on Myocbacterial and other immunodeficiency diseases.
Dr. Moulinath Acharya is collaborating with the Department of Neonatology, IPGME&R, Kolkata in the field of genomics of non-syndromic hearing loss.
Dr. Priyadarshi Basu is collaborating with Prof. Abhijit Chowdhury and Dr. Kausik Das of IPGME&R in the field of genomics, epigenomics and transcriptomics of non-alcoholic fatty liver disease.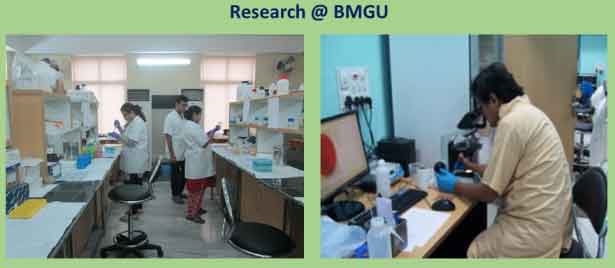 Training